Beekman Award
The Beekman Award is the preeminent award presented annually by the MAASE Organization at the August MAASE Summer Institute.
The President-Elect appoints a representative committee who focuses on the candidate's education, experience, current administrative responsibilities, honors and special recognition, organizational memberships and involvement, community activities, and any distinguishing qualities which would make a candidate worthy of the award.


---
Beekman Award Winner
Annually, at the August Summer Institute, the highest of the MAASE honors is bestowed upon one of our colleagues and is presented with the Beekman Award. The nominee must:
Be a special education administrator at the local, regional, or state level.
Have made significant contributions on behalf of special education.
Have demonstrated quality service in the field of special education.
Have exhibited integrity in his/her daily work and relationships.
Have diverse involvement in both the community and educational arenas.
Have made contributions to special education with statewide significance.
Have made significant contributions to MAASE.
Have proven him or herself to be a visionary.
Possess personal attributes that make him/her an outstanding representative of the Beekman Award.
Since its inception in 1973, the Beekman Award has been etched in deep tradition. Nominations are sent to the MAASE President, who then selects a committee of readers. Those readers are representative from all five MAASE regions around the state. Each reader is unaware of who the other readers are. Individually, they use a scoring rubric to rate the candidates and when completed, the results are sent directly to the President. The readers do not know the final identify of the winner. In fact, the winner does not know yet that he/she has won…only the president has this knowledge.
---
2022 Beekman Award presented to Jacqueline McDougal, Executive Director of Special Education, Farmington Public Schools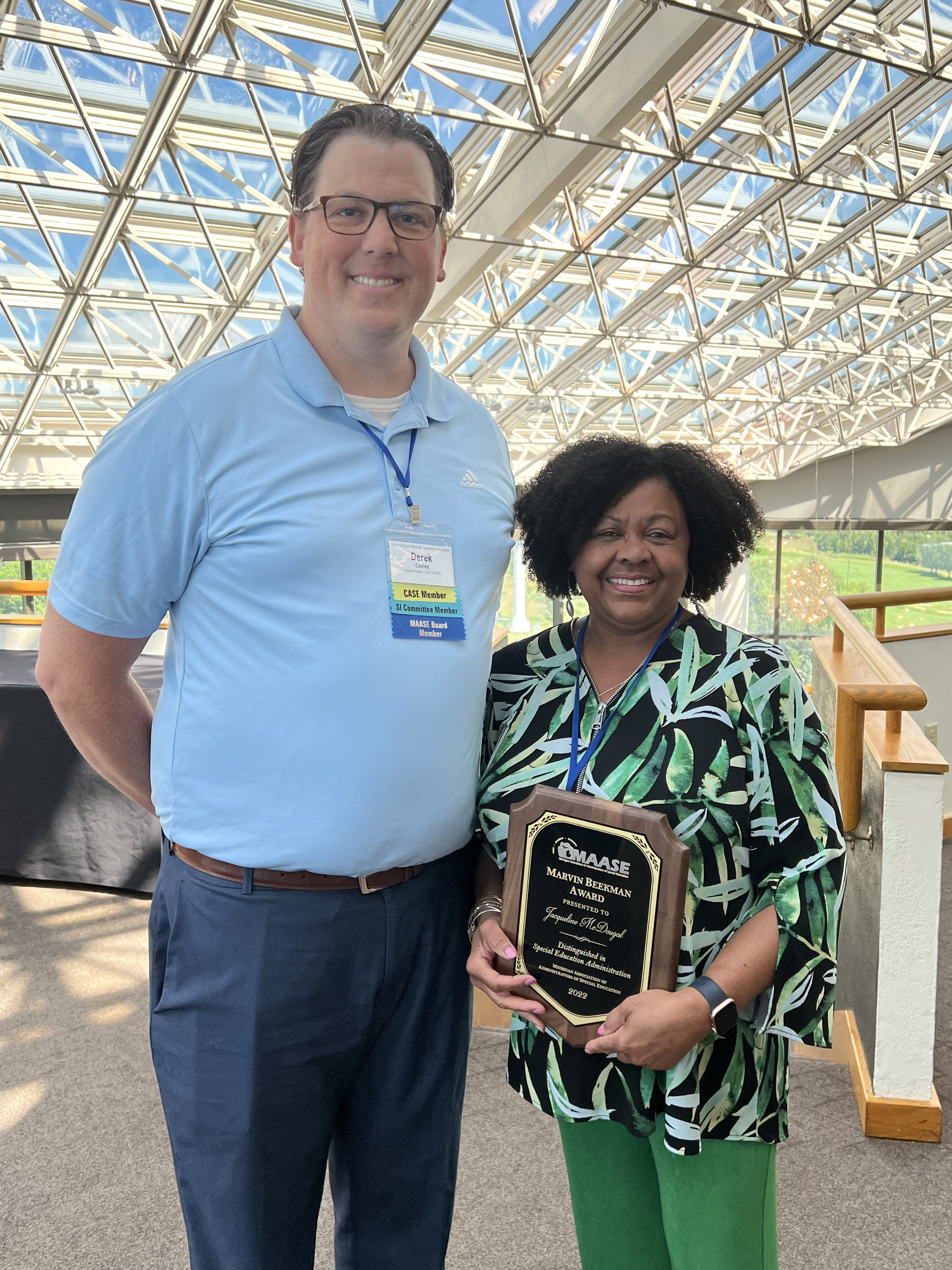 Award presentation by Derek Cooley, MAASE President:
This year's recipient has made a significant impact in the field of special education. During their time in their current district, they have supported the district in reducing the disproportionate identification and discipline of students of color. They have developed and implemented systems of restorative practice and social emotional support. This person leads the district crisis team, ensuring that student and staff mental health needs are addressed. This year's winner is a visionary leader who inspires others by their knowledge, skill, and integrity. All of this person's decisions are based in the philosophy of "do what's best for children" and "empower, not enable."
This person truly embodies the spirit and intent of the Beekman award, as evidenced by their commitment to long term positive outcomes for students with disabilities, their advocacy for equitable access to high quality educational opportunities for all students, and this person's kindness, transparency, and fierce focus on doing what is in the best interest of students. "
This year's winner directs, manages, and supervises a department of approximately 400 people.  This person provides leadership and vision in collaboration with other district departments to improve the outcomes for all students, specifically those with disabilities. This person provides leadership in the development of district-wide policies and procedures designed to impact student performance. Recently, this year's winner worked in collaboration with various agencies to develop a system of support for students exhibiting mental health crises. This person designs and implements parent resource fairs and meetings annually. Additionally, this year's recipient mentors new and aspiring administrators throughout their ISD. At the state and national level, this year's recipient has presented at various conferences in the area of cultural competence, implicit bias, and special education administration.
This year's recipient is a member of their district's central office cabinet team and offers a perspective grounded in years of experience through which many of the district's decisions are made.  This person has a wide range of experiences and abilities that serve their role as director of special education because she acts with integrity, transparency, and courage.  This person openly shares knowledge of instructional best practices and interventions to help students from both an academic and social-emotional lens.  
This year's winner has increased the quality of services to our students with special education needs. They have completely redesigned the model and delivery system of specially designed instruction in their district. During this redesign process, this year's recipient has mobilized their staff to visit other districts in our area to learn about how specially designed instruction was delivered.  This person has coordinated professional learning teams to design a model, and secured the necessary resources, training, and support, which have led to greater achievement in reading, mathematics, and writing achievement for students with disabilities. 
This year's recipient exhibits integrity and care for students in each and every interaction with families, students, and staff. This person is highly respected by every building administrator, each central office administrator, as well as all staff throughout their their district 
This year's recipient has served as a special education administrator since 2010. This person has served as the executive director of special education in two large urban districts. Prior to serving as a special education administrator, they were a school psychologist.  This year's recipient is a member of the Alpha Kappa Alpha Sorority and the Minority Student Achievement Network  This year's recipient has been involved in the Michigan Council of Exceptional Children, and has been chairperson of the Urban Special Education Administrators. 
This year's winner is 2019 Winner of the Greg Gwisdalla Award, granted by Special Education Administrators of Oakland County (SEAOC)  This year's recipient is a graduate of Tougaloo College, University of Southern Mississippi, University of Detroit, and Oakland University.  
It is my esteemed honor to announce the winner of this year's Beekman Award.  Dr. Jacqueline McDougal, Executive Director of Special Education, Farmington Public Schools.     
---
Past Beekman Award Winners 

2021 Carol Creilick
2020 Eric Hoppstock
2019 Scott Richards
2018 Laura LaMore
2017 Vanessa Winborne
2016 Greg LaMore
2015 Kathleen Barker
2014 Laurie VanderPloeg
2013 Donna Tinberg
2012 Thomas Koepke
2011 Lucy Hough-Waite
2010 Eleanor White
2009 Kathleen Golinski
2008 Cynthia Smith
2007 Kathy Fortino
2006 Jim Walker
2005 Tom Miller
2004 W. Scott Hubble
2003 Jim Shaw
2002 William Hartl
2001 Michael Dombrowski
2000 Maureen Slade
1999 Robert Dietiker
1998 Jan Baxter
1997 Donald Trap
1996 Thomas J. Rivard
1995 Cherie Simpson
1994 Jay R. Leach
1993 John E. Lindholm
1992 Don Bollinger
1991 Bob Cross
1990 Fred Chappell
1989 June M. Schaefer
1988 Leonard Rezrnierski
1987 Bert Donaldson
1986 Fred Nowland
1985 Ed Birch
1984 Larry Campbell
1983 Tom Howard
1982 Murray Batten
1981 Casmir Schesky
1980 Arnold Larson
1979 Tracy Stockman
1978 Charles Mange
1977 Mary Blair
1976 Joseph Noorthoek
1975 Walter Wend
1974 David Haarer
1973 Marvin Beekman