Beekman Award
The Beekman Award is the preeminent award presented annually by the MAASE Organization at the August MAASE Summer Institute.
The President-Elect appoints a representative committee who focuses on the candidate's education, experience, current administrative responsibilities, honors and special recognition, organizational memberships and involvement, community activities, and any distinguishing qualities which would make a candidate worthy of the award.


---
2020 and 2021 Beekman Award Winners
Annually, at the August Summer Institute, the highest of the MAASE honors is bestowed upon one of our colleagues and is presented with the Beekman Award. An award was not presented in 2020; MAASE was proud to present TWO awards this year! The nominee must:
Be a special education administrator at the local, regional, or state level.
Have made significant contributions on behalf of special education.
Have demonstrated quality service in the field of special education.
Have exhibited integrity in his/her daily work and relationships.
Have diverse involvement in both the community and educational arenas.
Have made contributions to special education with statewide significance.
Have made significant contributions to MAASE.
Have proven him or herself to be a visionary.
Possess personal attributes that make him/her an outstanding representative of the Beekman Award.
Since its inception in 1973, the Beekman Award has been etched in deep tradition. Nominations are sent to the MAASE President, who then selects a committee of readers. Those readers are representative from all five MAASE regions around the state. Each reader is unaware of who the other readers are. Individually, they use a scoring rubric to rate the candidates and when completed, the results are sent directly to the President. The readers do not know the final identify of the winner. In fact, the winner does not know yet that he/she has won…only the president has this knowledge.
---
2020 Beekman Award presented to ERIC HOPPSTOCK, Superintendent, Berrien RESA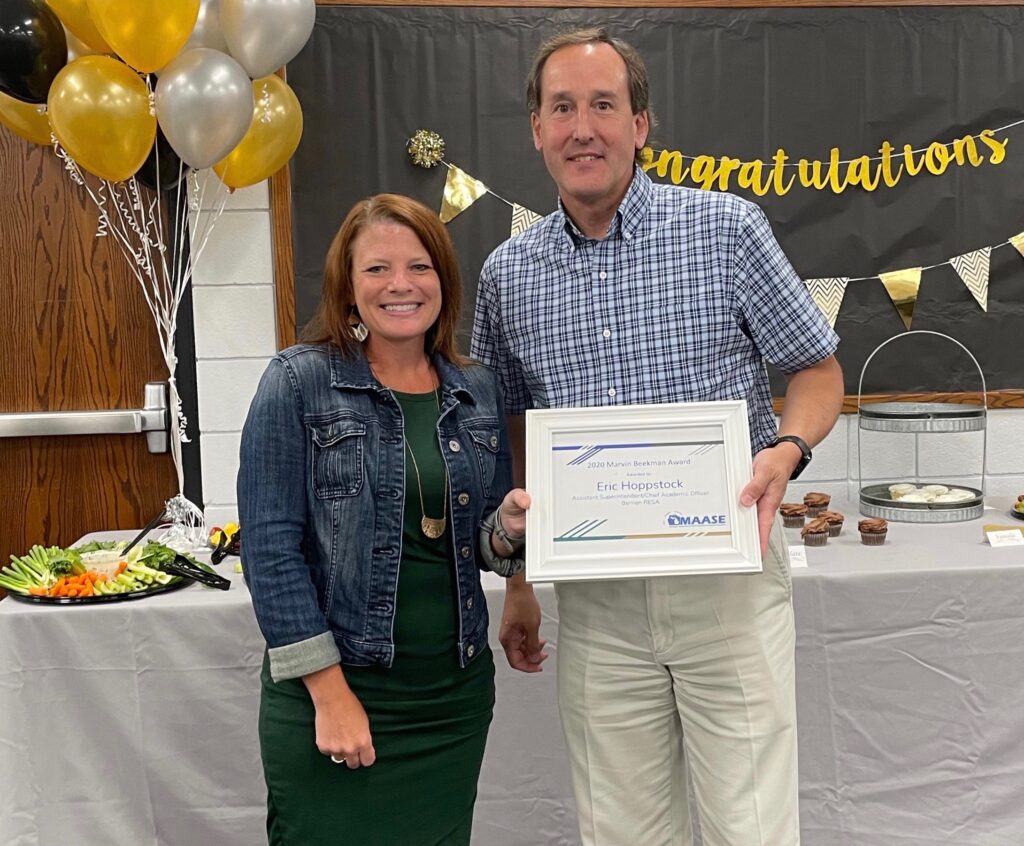 Award presentation by Renee Thelen, MAASE President:
The following are words used to describe our 2020 Beekman Award Winner…Integrity. Thoughtful. Compassionate. Educated. Caring. Personable. Let's dive in to learn more about how our recipient exemplifies those characteristics.
People HE/SHE works with say that the recipient is caring, diplomatic, and always does what's best for students. The recipient is described as a visionary that is always looking to improve programs and services for students. HE/SHE is described by colleagues as a lifelong learner that looks to continually improve HIS/HER craft. The recipient is described as diligent and HE/SHE carries out responsibilities with effectiveness and grace.
The recipient has helped mold the delivery of special education in HIS/HER county and has also influenced general education practices. HIS/HER influence has led to effective systems that benefit students, teachers, and families. The recipient has vast knowledge and expertise regarding instruction and supporting students with disabilities within the general education environment. HE/SHE helped to bring the county's Positive Behavior Intervention Support system into the forefront and was instrumental in implementation of a behavior scale to support teachers in identifying and quantifying student behaviors.
The recipient communicates well and listens to others. HE/SHE challenges ideas while helping to make them stronger. HIS/HER relationships with peers and staff are positive, inviting and educational. Colleagues feel like they always learn something after talking with HIM/HER.
The recipient is described as being thoughtful and forward thinking in the delivery of special education services. One example of this is that HE/SHE worked collaboratively with staff to create a new way of determining caseloads for Special Education providers that takes into account all aspects of meeting student needs.
The recipient is a leader in legislative advocacy, actively participating at the local, state, and national level. HE/SHE has participated and served as a leader in both state and national legislative advocacy events.
Are you ready for more details?
Our recipient is a former Batten award winner and has held leadership roles in both MAASE and CASE. Outside of work, the recipient is very involved in HIS/HER church and also supports organizations that benefit the community as a whole, such as United Way.
This person received their:
Undergraduate degree from Grace College
Masters and Ed Specialist from Ball State University in School Psychology
This person began working for HIS/HER current district in August of 1987. They served students, families and staff for 14 years as a School Psychologist. Next, they transitioned into the role of ISD Monitor which they held for 9 years. They then held the role of Assistant Superintendent and Chief Academic Officer until June of 2020 when they transitioned into the role of Superintendent. Even when transitioning into a new role, the recipient maintained HIS/HER integrity and commitment to special education, ensuring that HE/SHE would continue to be able to fulfill duties HE/SHE had committed to with both MAASE and CASE. The recipient has held a number of leadership roles with MAASE and CASE including:
MAASE President
Chair of the MAASE Legislative Action Committee
Serving on the Finance Committee for CASE
CASE Treasurer
CASE Unit Development Chair
As part of the recipient's nomination package, letters of recommendation were submitted from as far away as Virginia and Missouri. A clear testament that the recipient's impact reaches far beyond the borders of HIS/HER community. Quotes from these letters included:
"The recipient is just a great guy. I feel honored to have worked with him and to call him a friend. He is highly qualified to be honored with the MAASE Beekman Award."
"I have the utmost respect for the recipient, his vision for excellence, his desire to improve the educational system and most importantly to improve results for all children."
"The recipient is well known amongst his colleagues for his sound decision making and voice of reason, his clear and concise solutions and direction."
The recipient is not only a leader within his own district, he shares his leadership talents at both the State and International level through his active involvement in both MAASE and CASE. But most importantly, although he is widely recognized for his achievements at both the State and International level, the recipient is someone that his peers consider a friend, someone they can easily call on when they need a trusted advisor. The recipient is a true leader of leaders. Please join me in congratulating the 2020 Beekman Award winner, Eric Hoppstock, Superintendent of Berrien RESA.
---
2021 Beekman Award presented to CAROL GREILICK, Assistant Superintendent, Northwest Education Services (formerly Traverse Bay Area ISD)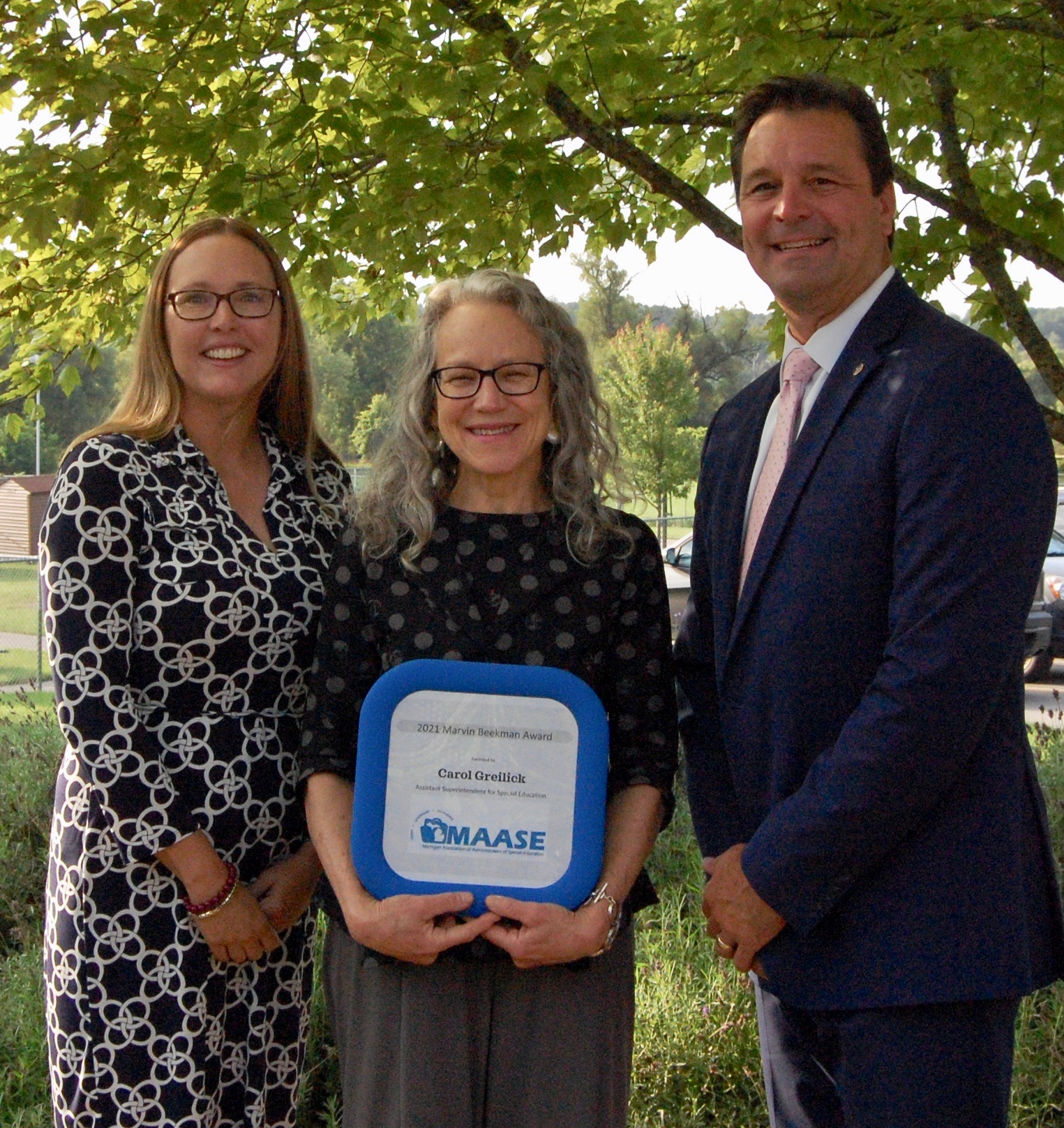 Award presentation by Renee Thelen, MAASE President:
The following are qualities used to describe our 2021 Beekman Award Winner…Resilient leader. Focused on student outcomes. Collaborative. Integrity. Service oriented. Prioritizes relationships. Meticulous leader. Advocate.
Let's dive in to learn more about how our recipient exemplifies those characteristics. The recipient leads by example. A parent, educator, and leader, the recipient always puts others needs and interests above HIS/HER own. Colleagues say that they frequently witness the recipient making sacrifices to ensure that students, staff, and community needs are met. HE/SHE is frequently observed working weekends or being the last to leave the office. The recipient displays the hard work, dedication, and integrity needed to serve the school community.
The recipient is known for HIS/HER quiet advocacy. HIS/HER calm demeanor and presence invites others to approach HIM/HER when seeking understanding. The recipient works tirelessly to represent the interests of students with disabilities at the local, regional, and state level.
HE/SHE takes the time to truly get to know the people and systems that HE/SHE works with. The recipient understands district strengths and successes and sees opportunities. HE/SHE provides staff with the confidence needed to move forward in these moments of opportunity. HE/SHE consistently shows up when it really matters and has a gift of providing the right support at the right time.
All of HIS/HER decisions that impact teaching and learning are laser focused on ensuring a positive impact on student learning. HE/SHE possesses a strong vision for our region's children and families, their programs and services, and the adults that provide care and education to students. An example of this vision and advocacy can be found in the recipient's early childhood work. HE/SHE has provided strong leadership around preschool inclusion, primary service provider model of service delivery, and single-tier services for birth-3. If it has a focus on children, and comes with a strong evidence base, she will advocate and deliver resources to ensure outcomes improve.
The recipient perseveres. A recent example can be found in HIS/HER leadership during the pandemic. HE/SHE spent hours and hours over the last year to ensure that student's needs were met. The recipient was mindful not only of student needs but would also frequently check in with staff to ensure that they felt supported. In the summer of 2020, the recipient worked tirelessly with staff to ensure that the necessary safety protocols were in place to provide a safe in person summer school experience for students with the greatest educational needs. HE/SHE displayed tireless service to the field when we undoubtedly needed it the most.
The recipient serves HIS/HER profession through active involvement in committees and leadership roles. In HIS/HER district the recipient serves as a member of a Special Education Adhoc Committee as well as the Health & Wellness Committee. At a statewide level the recipient is active in MAASE and was nominated by the MAISA Superintendents to represent HIS/HER region as a founding member of the Special Education Instructional Leadership Network (SEILN) and later took on a leadership role on the SEILN Board. The recipient also lended HIS/HER expertise to the General Education Leadership Network (GELN) Continuity of Learning (COL) task force, a statewide workgroup that created guidance for schools regarding the education of all children during the pandemic. This work required long hours outside of the workday, rigorous timelines, and stressful conditions. In addition to all of these commitments, the recipient also fosters the development of future educational leaders through HIS/HER role as an adjunct faculty member at both GVSU and WMU.
The recipient is actively involved in HIS/HER community. HE/SHE is actively involved in the photography club and is also a member of Arts for All which provides access and inclusive opportunities for children and adults with and without disabilities to experience and grow through the arts.
Are you ready for more details?
HE/SHE earned a Bachelor of Arts with a major in Psychology and a minor in Mathematics in 1980
HE/SHE earned a Master of Arts in Psychology in 1981 & Educational Specialist in School Psychology in 1982, both from Western Michigan University
HE/SHE attended the Doctoral Program in School Psychology at Michigan State University from 1992-1995
HE/SHE completed the Special Education Administration program at Grand Valley State University in 2013
HE/SHE has served the needs of students with disabilities in the following roles throughout HIS/HER career:
School Psychologist
Educational Consultant
Behavior Consultant
Service Area Supervisor
Director of Compliance
Assistant Superintendent for Special Education
HE/SHE is a champion for equity with participation in the following committees:
2021 member of the Diversity, Equity, Inclusion, Belonging Committee for HIS/HER ISD
2020 member of the Diversity, Equity, Inclusion, Belonging Committee in HIS/HER region
Member of the Michigan Civil Rights Commission, Advocates & Leaders for
Police & Community Trust since 2017
As part of the recipient's nomination package, letters of recommendation were submitted from current colleagues. Quotes from these letters included: "She is an outstanding leader who supports and lifts other leaders to reach their full potential. I am grateful to have had the opportunity to work with such an incredible educator and mentor and look forward to continuing to work alongside this amazing human as we continue to focus on kids and families first."
"Her ideas and contributions are always insightful and authentic with a flare towards thinking outside the box and demonstrating courageous leadership."
"Her growth mindset, high emotional intelligence, and intentional approach to working as part of a team is what makes her so deserving of the Marv Beekman award."
Please join me in congratulating the 2021 Beekman Award winner, CAROL GREILICK, Assistant Superintendent of Special Education for Northwest Education Services (formerly Traverse Bay Area ISD).
Past Beekman Award Winners 
2019 Scott Richards
2018 Laura LaMore
2017 Vanessa Winborne
2016 Greg LaMore
2015 Kathleen Barker
2014 Laurie VanderPloeg
2013 Donna Tinberg
2012 Thomas Koepke
2011 Lucy Hough-Waite
2010 Eleanor White
2009 Kathleen Golinski
2008 Cynthia Smith
2007 Kathy Fortino
2006 Jim Walker
2005 Tom Miller
2004 W. Scott Hubble
2003 Jim Shaw
2002 William Hartl
2001 Michael Dombrowski
2000 Maureen Slade
1999 Robert Dietiker
1998 Jan Baxter
1997 Donald Trap
1996 Thomas J. Rivard
1995 Cherie Simpson
1994 Jay R. Leach
1993 John E. Lindholm
1992 Don Bollinger
1991 Bob Cross
1990 Fred Chappell
1989 June M. Schaefer
1988 Leonard Rezrnierski
1987 Bert Donaldson
1986 Fred Nowland
1985 Ed Birch
1984 Larry Campbell
1983 Tom Howard
1982 Murray Batten
1981 Casmir Schesky
1980 Arnold Larson
1979 Tracy Stockman
1978 Charles Mange
1977 Mary Blair
1976 Joseph Noorthoek
1975 Walter Wend
1974 David Haarer
1973 Marvin Beekman