Back to Events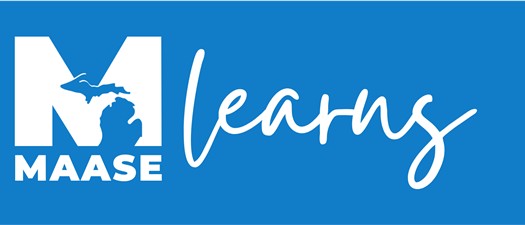 OPTIMISE (Virtual Event)
June Professional Learning
Tuesday, June 11, 2024
This event will be held via zoom and a link will be sent out closer to the event.
Event Details
OPTIMISE
Presenters - Laurie VanderPloeg and Kathy Fortino
As this groundbreaking effort continues, join us in hearing updates from the OPTIMISE team regarding the work that has been taking place around building, supporting, and sustaining a NEW education system that can enthusiastically attract, prepare, and retain an effective and diverse special education workforce to serve individuals across Michigan.
Included in this virtual day of learning will be Developing Leaders sessions AND the General Membership Meeting.
Developing Leaders is THE place to solve current problems of practice with other MAASE members. Topics for this informal "Ed Camp" opportunity are brainstormed prior to the event. During the sessions, notes are taken to capture the information and resources shared by fellow MAASE members on the hot topic of the day. The General Membership Meeting is where you will hear state level updates from MDE OSE and our lobbyist. You will also hear updates from the President on the Board meetings, current MAASE work and have the opportunity to give input on the direction of the organization.
For More Information:
Lindsey Zeller
Manager of Membership & Marketing